Les Notes Olympiques du 02/02/2018 [J-7] : ils arrivent...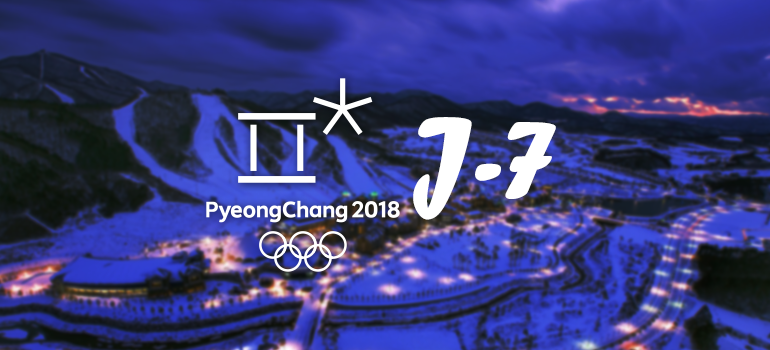 Nous sommes le 2 février 2018 et à 7 jours des Jeux Olympiques d'hiver les délégations commencent à débarquer à PyeongChang. Aujourd'hui sur les réseaux sociaux c'était le bal des photos des départs, vols et arrivées des athlètes du monde entier…
https://www.instagram.com/p/BesPk5vn0Ss/
https://www.instagram.com/p/Bes5ZOWhkty
https://www.instagram.com/p/Ber5soahEmp
https://www.instagram.com/p/BeqoXIsAwSk/
https://www.instagram.com/p/BerwXOUHe7N
https://www.instagram.com/p/Ber8G2NDADh
Sinon, quoi de neuf dans l'actu sportive et olympique ?
Cette patineuse de vitesse (en short track) britannique sera-t-elle en territoire ennemie/hostile à Pyeongchang ?
et sinon, le tournoi des Six Nations débute demain :
Take a look at our match previews ahead of a HUGE weekend of action!

WAL v SCO https://t.co/L95zzxXSbR

FRA v IRE https://t.co/9JimlZzw14

ITA v ENG https://t.co/7bREY7iyNq #WALvSCO #FRAvIRE #ITAvENG #NatWest6Nations pic.twitter.com/NKLO1ezIEw

— Guinness Six Nations (@SixNationsRugby) February 2, 2018
Quoi de neuf à PyeongChang 2018 ?
La Team Ireland nous fait visiter les lieux :
Si l'équipe unifiée de hockey sur glace féminine ne fait pas l'unanimité en Corée du Sud, elle aura au moins attiré l'intérêt du public pour cette discipline outrageusement dominée par deux équipes depuis des années (le Canada et les USA), à en juger par les prix des matchs qui flambent
Tickets for #Olympic matches featuring the Korea women's #hockey team that has 12 North Korean athletes have tripled the prices for other group matcheshttps://t.co/tIw8byxSC8 pic.twitter.com/RtCSGBtmJb

— Kevin Nutley (@kevnutley) February 2, 2018
2000 volontaires se seraient déjà désister avant même le début des jeux.
With 2,000 #PyeongChang2018 volunteers quitting before starting, this is one to watch closely. Volunteers have a direct impact on Winter Games logistics and experience. Happened in #Rio2016 two weeks into the games. https://t.co/JqAadYRd5L

— Ken Hanscom (@KenHanscom) February 2, 2018
Les Porte-Drapeaux du Jour
Le Canada n'aura pas un, mais deux porte-drapeaux puisque c'est la paire de patinage artistique composée de Tessa Virtue et de Scott Moir qui a été choisi pour mener le Team Canada.
https://www.instagram.com/p/BeBMQmzFgq_
Pour finir…
Les australiens s'amusent
https://twitter.com/7olympics/status/959340368352370689
À demain !